Violet Baudelaire (pronounced
/ˈvaɪ.əlɨt ˌboʊd(ə)ˈlɛər/
) is one of the main characters in the
children's book
series,
A Series of Unfortunate Events
by
Lemony Snicket
. In the
film
she is played by
Emily Browning
. Violet is the eldest child of the Baudelaire orphans. Her younger siblings are her younger brother
Klaus
and her baby sister
Sunny
. Violet is an inventor, and is known for inventing helpful items under severe time constraints and with few supplies. In the first book in the series Violet is 14 years old, and she turns 15 in
The Grim Grotto
. By the end of the series she is most likely 16. Violet's favorite book is
The Life of Nikola Tesla
, and she has a strong allergy to
peppermints
, which she shares with her siblings. She does not like the song, "
Row, Row, Row Your Boat
" because of the part, "Life is but a dream". She, like her siblings, is very polite. At the end of the series, she, Klaus, and Sunny adopt Kit Snicket's baby daughter,
Beatrice Baudelaire
. Violet may have love interest in both Quagmire sons.
Before the series
Edit
When Violet Baudelaire was five years old, she won her first invention contest with an automatic rolling pin. She used a window shade and six pairs of roller skates, plus winning her a gold medal and a compliment from the judge, who bet that Violet could invent something with both her hands tied behind her back. Around her tenth birthday, she invented a new kind of pencil sharpener.[1] Prior to the demise of her parents, she liked to visit the Verne Invention Museum and enjoyed many of its exhibits, including one of the mechanical demonstrations that had inspired her to be an inventor when she was just two years old. In the Bad Beginning, Snicket describes Violet as having pleasant facial features, like her siblings. She hates the color pink and finds the color lavender a sickly color, as mentioned in the Wide Window.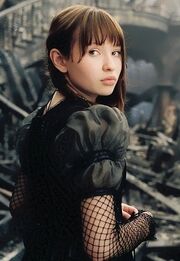 Inventions
Edit
While Klaus is the researcher, Sunny is the biter (and later chef), Violet is the inventor. The theme of children each having a particular ability. For example, with the Quagmire triplets, Duncan is a journalist, Isadora is a poet, and Quigley is a cartographer. The Baudelaires' volatile friend Fiona is a mycologist. Violet is depicted as being extremely skilled at inventing devices. She often invents devices to help herself and her siblings in dangerous situations, using only simple objects such as rubber bands and tin cans. Whenever Violet invents something, she ties her hair up with her ribbon to keep it out of her eyes.
Violet's inventions
Edit
Ad blocker interference detected!
Wikia is a free-to-use site that makes money from advertising. We have a modified experience for viewers using ad blockers

Wikia is not accessible if you've made further modifications. Remove the custom ad blocker rule(s) and the page will load as expected.