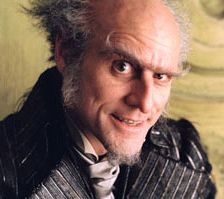 Count Olaf is the main antagonist of the series. His primary goal is to obtain the Baudelaire fortune. He was the orphans first guardian trying to get the fortune through his adoption of them and marry Violet. In most of the books he follows the siblings everywhere in disguises with new schemes. But every time he failed. He died in The End.
The Bad Beginning: He does not have any disguises, but attempts to marry Violet.
The Reptile Room: He dresses up as Uncle Monty's new assistant and kills Uncle Monty.
The Wide Window: He befriended Aunt Josephine, and then traps her. Later she dies from leeches.
The Miserable Mill: He makes the orphans work for a long time and hypnotizes Klaus.
The Austere Academy: He is disguised as a Sports Coach named "Genghis" He kidnaps the Quagmire triplets, but fails to kidnap the Baudelaire's
The Ersatz Elevator: Disguises as a foreigner auctioneer named Gunther and auctions of the Quagmire triplets inside a red herring statue.
The Vile Village:
The Hostile Hospital:
The Carnivorous Carnival:
The Slippery Slope:
The Grim Grotto:
The Penultimate Peril:
The End: 
Ad blocker interference detected!
Wikia is a free-to-use site that makes money from advertising. We have a modified experience for viewers using ad blockers

Wikia is not accessible if you've made further modifications. Remove the custom ad blocker rule(s) and the page will load as expected.