Josephine Anwhistle is Violet, Klaus and Sunny Baudelaire's second cousin's sister-in-law, and becomes their guardian in Thw Wide Window. She dies in a leech attack after eating a banana before entering the territory of the larychnose leeches.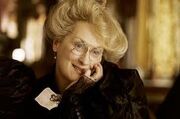 Personality and Traits
Edit
She thinks grammar is the greatest joy in life.
She is shown to be irrationally afraid of many things, including common household items such as a telephone and a stove.
Ad blocker interference detected!
Wikia is a free-to-use site that makes money from advertising. We have a modified experience for viewers using ad blockers

Wikia is not accessible if you've made further modifications. Remove the custom ad blocker rule(s) and the page will load as expected.